MECART Cleanroom Panels are FM Approved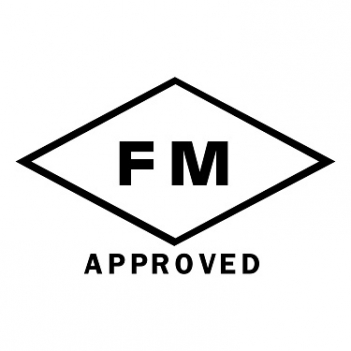 What is FM Approvals?
Factory Mutual Approvals, commonly known as FM Approvals, is a worldwide certification organization and a third-party testing body specialized in property loss prevention products. FM Approvals is a division of FM Global, an international insurance company. Those two companies were born from the idea that most property losses are preventable using duly tested and controlled equipment.
What began with modest hydraulic testing for fire protection has now developed property damage expertise and product resistance testing for electrical hazards, fire technology, hydraulics, natural hazards, and explosions. Over the years, FM Approvals continues to add more specific certifications to their product portfolio, such as cleanroom material (FM 4910) or wall and ceiling systems (FM Approvals 4800 & 4882).
What do FM Approved panels mean for your cleanroom project?
FM Approved means that the panels have been thoroughly tested and meet the walls and ceilings FM Approvals requirements for fire rating (FM 4880) and smoke sensitive occupancies (FM 4882). Cleanroom panels are not all manufactured equally.
Some panels are made of polystyrene (thermoplastic) or aluminum, while others are made with fiberglass reinforced plastic or stainless steel. The core materials may also differ. You can find a range of cleanroom panels made from low to high-quality materials. That wide variety of materials and cleanroom panels mean that they don't react the same when exposed to fire, heat, and smoke.
Thanks to scientific evaluations, the FM Approved mark guarantees how the cleanroom walls and ceilings will react when facing those elements. Depending on the purpose of your cleanroom, insurances, or company policy, you might need FM Approved panels for loss prevention or insurance.
The initial cost of a cleanroom is expensive, and that investment needs to be protected. A small amount of contamination from fire and smoke can cause irreparable damages to your cleanroom facility. FM-approved panels will bring you peace of mind and meet all the different insurance requirements.
Mecart: First North-American Panel Manufacturer with FM Approved Mark  for Cleanroom Walls and Ceilings
As mentioned before, there are three types of occupancy that the FM 4882 Approved panels cover: the cleanrooms, pharmaceutical manufacturing, and food preparation. The most challenging certification to get is the cleanroom-grade non-combustible panels. Not only did Mecart's panels passed the test with flying colors, but they also achieved best-in-class performances. Mecart obtained the highest possible ranking for the modular panel systems. Mecart is now FM Approved for both 4880 and 4882 certifications, making them the first North-American panel manufacturer with cleanroom grade FM Approved panels.
Benefits of having FM 4882 certified panels*
·        The only wall and ceiling panels in the world tested and certified for use in smoke sensitive occupancies such as pharmaceutical, food processing, and other smoke sensitive industries
·        Reduced fire loss, a significant reduction in smoke-related loss, and reduce business down time.
·        Strong enough to be power washed.
·        Sprinkler protection may be reduced or eliminated if the occupancy allows.
 Mecart Wall and Ceiling Panels will be FM approved and rated with the following ratings:
4880 Class 1, non-combustible core with Unlimited height installation because of its virtual absence of heat release and fire propagation.
4882 Class 1, non-combustible core for Cleanroom because of its near-zero smoke levels nor combustion
The Mecart 4880 FM Approval Test Results
During the 4880 FM Test, Mecart sandwich panels did not spread the flames past the crib location, which means no extremities' charring. When conducting FM Approval tests, it's not uncommon to see the panel temperature reaching 700°F when exposed to burning flames. Mecart's panel system achieved much better results. The test registered a grade of 231°F below the average. Mecart cleanroom panels did not exceed the 469°F mark during the 15-minute test, passing the test without a hitch.
The Mecart 4882 FM Approval Test
The smoke-sensitive occupancy test consists of 2 panels installed in parallel, with a gas burner and an extraction device to measure the smoke generation rate. With the 4882 FM Approval seal, Mecart cleanroom panels are guaranteed to limit flames' propagation and produce a substantially smaller amount of smoke than traditional wall and ceiling systems. Mecart cleanroom panels passed the tests easily with best-in-class performances.
Download the panel spec sheet