Hospital Isolation Rooms (COVID-19)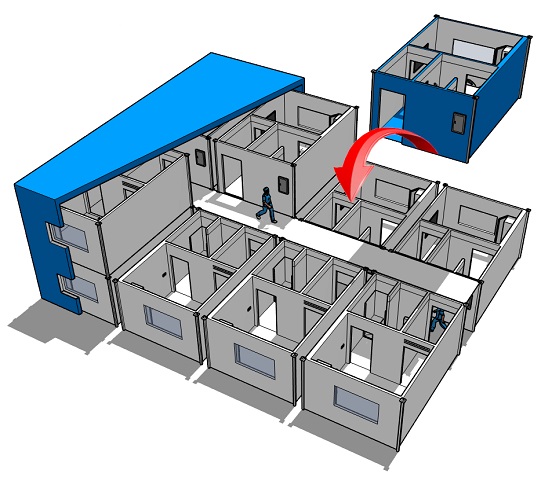 Negative Pressure Room Key Features and Options
Turnkey fully pre-assembled isolation room.
Minimal assembly work required on site.
Utilities prewired within the wall.

Alarm to be activated on loss differential pressure

Self-closing and interlock doors

Ensuite with shower, hands-free wash station and toilet

Clinical hand wash station with hands-free operation

100% intake of fresh air (no recirculating air)

HEPA filtered exhaust air

Supply air ducts independent from the building air supply

HEPA filtration system to protect immunodeficient patients
Easily cleanable
Our smooth modular walls, doors and windows are resistant to repeat cleaning and the use of several chemicals. They also specifically designed for sterile environments.
We can respond rapidly to the pressing need for hospital isolation quarantine rooms during the COVID-19 pandemic.
Contact Us
Mecart's expertise in cleanroom design and manufacturing makes us the right partner for rapid hospital isolation room fabrication.
Request A Quote
Why Mecart ?
Mecart is a long-standing and trusted Canadian manufacturer of modular/prefab clean environments. We are can respond rapidly to the pressing need for hospital quarantine isolation rooms during the COVID-19 pandemic.
Short lead time (4 weeks)
MECART can answer the urgent need for isolation rooms for the COVID-19 pandemic. With our high capacity plant and high-efficiency production line, we can manufacture modular rooms for health care in 4 weeks. Our unique Cam Lock system and factory engineered and prefabricated panels make our modular installation among the fastest in the industry. We can also prefabricate the pod-like facilities in our plant.
Turnkey Fully Pre-Assembled PODS
Plug and play
Simply plug electrical and mechanical utilities
Produced in a safe, efficient and controlled environment
Pre-clean: ready to use
Proven track record
Mecart has manufactured hundreds of cleanrooms for various industries and applications over the past four decades. With our know-how of hazardous drug compounding and pharmaceutical/sterile environments, we are perfectly qualified to manufacture negative-pressurized isolation rooms.
Let us advise you
We'll present a solution matching your needs and timeline!
Contact us