USP 797 Clean Room – Sterile Compounding Pharmacy
Sterile compounding CLEAN ROOM DESIGN
Modular Pre-Fabricated USP 797 Clean Room Solution
Mecart sterile clean rooms are pre-fabricated in our manufacturing plant, shipped to and installed in your pharmacy making installation worry-free.  Mecart cleanrooms are typically designed to be fully independent systems. Modules have their own structure for mechanical equipment. All services for the controlled environments are built into the panels, reducing on-site risks, delays, and projects overall costs.
USP 797/800 Compliant Cleanroom
Mecart guarantees its cleanroom facilities' compliance with local and national requirements, such as USP 797 standards and USP 800 standards. Our experienced in-house engineers will help you meet the quality standards for compounded sterile preparation (CSP). They will also assist you in selecting the right components and features to fit your needs. Our cleanroom walls can be equipped with windows to monitor your employees' compounding activities from the outside, hence helping to preserve the sterile environment.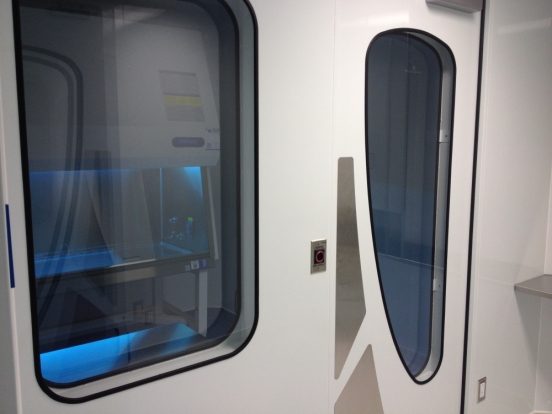 Modular Compounding Pharmacy's work zones
ISO Class 7/8 Anteroom
The anteroom, also called ante-room or antechamber, is an area in close proximity to the cleanroom where technicians perform support tasks. The anteroom is usually equipped with a sink, cabinets, bench, etc. The anteroom can be engineered as an ISO 7 or ISO 8 environment. It depends on the risk level of the sterile products being prepared in the critical compounding area.
ISO 7 Buffer Room or Clean Room
The actual cleanroom or buffer area (sometime called white room) is equipped with workstations. It must be negative pressurized for hazardous drug preparation or  positive pressurized for sterile non-hazardous compounding preparations. It is critical to maintain an appropriate cascade of pressure to preserve a clean and safe environment in your cleanroom. Mecart cleanrooms are double sealed and balanced.
Mecart's package for Compounding Pharmacies
100% modular shell
Integrated windows
Integrated low wall air return
Mecart-made doors
Integrated electrical outlets and services (no need for electricians on site)
Other services
Mecart Air Handling Unit (AHU)
Cooling and heating
Humidifying
High performance ventilation & filtration
Control & Monitoring Systems
Pressure
Temperature
Humidity
Particle Counts
Mecart guarantees its cleanroom facilities' compliance with local and national requirements, such as USP 797 standards and USP 800 standards.
Contact our experts
Choose Mecart for your USP 797 cleanroom
Turnkey Solution, in-house specialists dedicated to your project
custom design
manufacturing
shipping
installation
commissioning
Learn more about our Turnkey Services
Satisfaction Guarantee
Guaranteed Performance
Guaranteed Delivery
Guaranteed Quality
Guaranteed Price
Learn more about our Waranties
Modular clean room, a real asset
Mecart cleanrooms can be modified, expanded, moved to other facilities and even sold as assets.
Learn more about our Modular System.
Let us advise you
We'll present a solution matching your needs and budget!
Contact us