GMP Facility for Cannabis Extraction and Finished Products
With the absence of globally recognized guidelines and the FDA not yet enforcing GMP in the cannabis industry in the US, a handful of licensed cannabis producers are building state-of-the-art GMP facilities to strengthen their position and branding in the US and Canada and to facilitate the export of GMP-certified products to Europe and Australia.
Cannabis Legislation in Canada and USA
Many Canadian cannabis companies were early to market as a result of the national legalization for recreational use. Canadian-licensed cannabis companies are required to comply with the Canada-specific Good Production Practices (GPP) standard, which is considered a lower level of quality assurance than EU-GMP.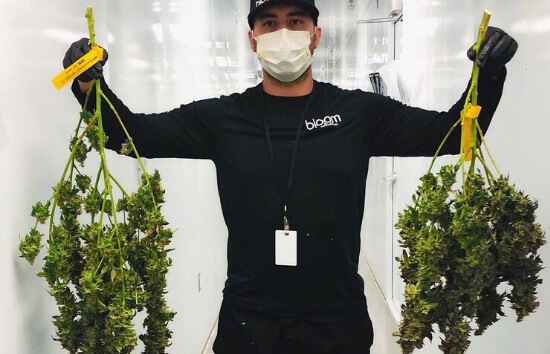 The US market is still operating on a state-by-state basis. Since cannabis is a fairly new market and is not legal nationwide in the US, federal agencies have not yet developed standards. The FDA establishes Good Manufacturing Practice (GMP) regulations for a wide range of products including foods, human and veterinary drugs, vaccines, medical devices, radiation-emitting electronic products, cosmetics, dietary supplements, and tobacco products. Obviously, cannabis can be used in almost all of these categories. Companies under the jurisdiction of the FDA are required to be up to date on the most current regulations, often referred to as cGMP, which stands for Current Good Manufacturing Practices.
Even if the FDA has no guidelines yet for cannabis-related products, some companies are going the extra mile to make sure they are ready and ahead of their competition when regulations are in place. Regulations will be unavoidable in the upcoming years to guarantee the population's safety. A proactive way to become a pioneer in this industry and to set a higher customer standard from the start can be to follow some of the good practices of regulated industries like the pharmaceutical and drug compounding industries.
What is cGMP?
The FDA ensures the quality of drug products by carefully monitoring drug manufacturers' compliance with its Current Good Manufacturing Practice (CGMP) regulations. The CGMP regulations for drugs contain minimum requirements for the methods, facilities, and controls used in manufacturing, processing, and packaging of a drug product.  The regulations make sure that a product is safe for use, and that it has the ingredients and strength it claims to have.
Exporting Medical Cannabis to the EU and Australia
For producers who want to export to Europe and Australia, stringent regulations are already in place. Good Manufacturing Practice (GMP) certification is key for medical marijuana companies with international ambitions.
GMP standards are more costly to implement when initially starting a facility, but the access to international markets provides a potentially large increase to the return on investment.
GMP is required for companies that plan on exporting to Australia (TGA-GMP certification) and also to Europe (EU-GMP certification).
If a manufacturer resides overseas, Australia requires a GMP certification (or clearance) under the Therapeutic Goods Administration (TGA).
Only medical cannabis from EU-GMP certified facilities, or the equivalent, can be sold in the European Union. EU-GMP is the same standard to which European pharmaceutical companies are held.
Active Pharmaceutical Ingredients (API) for medicinal products
While recreational marijuana regulations are still a bit ambiguous, this is not the case for pharmaceutical-quality ingredients for the manufacturers of Active Pharmaceutical Ingredients (API) for medicinal products.
Some applicable regulations
Table illustrating the application of Good Practices to the manufacture of herbal medicinal products
Taken from EU GMP Annex 7: Manufacture of Herbal Medicinal Products
As illustrated in the table on the right from EU GMP Annex 7, for the manufacture of herbal medicinal products, GMP is applicable beginning with cutting and drying steps.
"The GMP classification of the herbal material is dependent upon the use made of it by the manufacturing authorization holder. The material may be classified as an active substance, an intermediate or a finished product. It is the responsibility of the manufacturer of the medicinal product to ensure that the appropriate GMP classification is applied."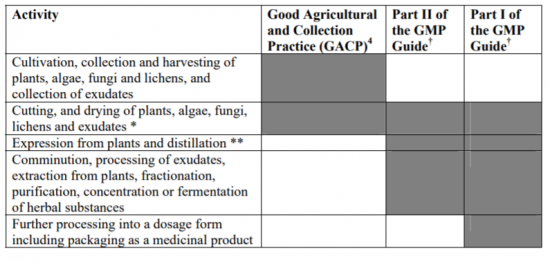 So…What does GMP compliance REALLY mean in terms of a cleanroom facility? 
Routinely monitored environmental conditions – particle monitoring system with alarm if limits are exceeded (grade B) as well as temperature, humidity, and pressure differential monitoring.
Clean area entry through airlocks for personnel and/or equipment/materials (pass-through)
Clean areas maintained to the appropriate cleanliness standard
Air supplied passed through filters of appropriate efficiency
Component preparation, product preparation, and filling carried out in separate areas
Microbiological monitoring
All exposed surfaces should be smooth, impervious, and unbroken to minimize the shedding or accumulation of particles or micro-organisms and to permit repeated application of cleaning agents and disinfectants
No uncleanable recesses and a minimum of projecting ledges, shelves, cupboards, and equipment
Doors should be designed to avoid uncleanable recesses
Sinks and drains prohibited in grade A and B for aseptic filling
Both airlock doors must not be opened at the same time and use interlocking system or visual/audible warning system to prevent this from happening
Demonstrate airflow patterns do not present a contamination risk
Ambient temperature and humidity should not be uncomfortably high for employees
(See more in EU GMP Annex 1)
Disclaimer
Please note that the information on this page is only provided for educational purposes. The definitions and concepts are oversimplified in order to assist with understanding. If help is needed in this respect, seek the advice of an expert in your particular process and refer to the applicable regulations.
Ready to discuss your GMP-compliant cleanroom facility project for medicinal cannabis?
Contact us!