End of Year Recap: 5 Cleanroom Projects from 2016
With 2016 coming to an end, here is an overview of some of the projects we completed in the past year.
3) Chemical Analysis Room
We designed this ISO 7 cleanroom for a client in Ontario. Work being done within the cleanroom produces toxic vapors which have to be evacuated. In order to do so, we designed a custom HVAC system which would compensate the exhausted air.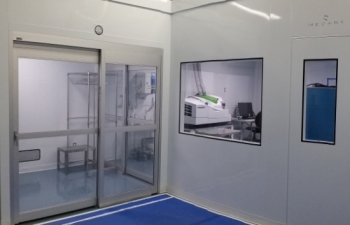 5) Sterile Operation Cleanroom (Class B)
This project is still ongoing but I thought you might like to have a sneak peek during the installation of one of our cleanrooms. Jointly with engineering firm Laporte, we conducted the enlargement of an existing cleanroom and had to fit the new cleanroom with the old one. As you can see from the video, windows are fully flush mounted for a flat finish against the wall. The high ceiling is 10 feet tall with HEPA filters. There are numerous pre-cut custom openings in the walls for the installation of water pipes and other utilities. We also engineered a removable wall panel in order to be able to bring in a large filling machine once the cleanroom installation is completed.