cGMP & Biotech Cleanroom for Stem Cell Manufacturing – Theranostics
cGMP Cleanroom Features for Stem Cell Biomanufacturing 
The cleanroom is built and designed to meet all the cGMP requirements for biomanufacturing induced pluripotent stem cells (iPSC). For example, the pass-through is made with an interlock system, prohibiting the pass-through doors from opening simultaneously.
The same interlocking system is also in place for all entrances and doors of the cleanroom, as requested by GMP regulations.
The wall, floor, and ceiling panels are all robust, easily cleanable thanks to the long-lasting and chemical-resistant paint and smooth surfaces. The cleanroom panels, windows, and doors all have a flush-finish design, limiting the possibilities of contaminants accumulation.
The cGMP cleanroom is also equipped with cleanroom-specific LED lighting, installed in ceiling panels, and a flush finish.
Mecart also manufactured the air-handler unit (AHU) to exhaust 200 cfm of air from the cleanroom spaces. 60 air changes per hour will be provided for the ISO 7 laboratory, and 40 ACH for the ISO 8 gowning room to be cGMP compliant.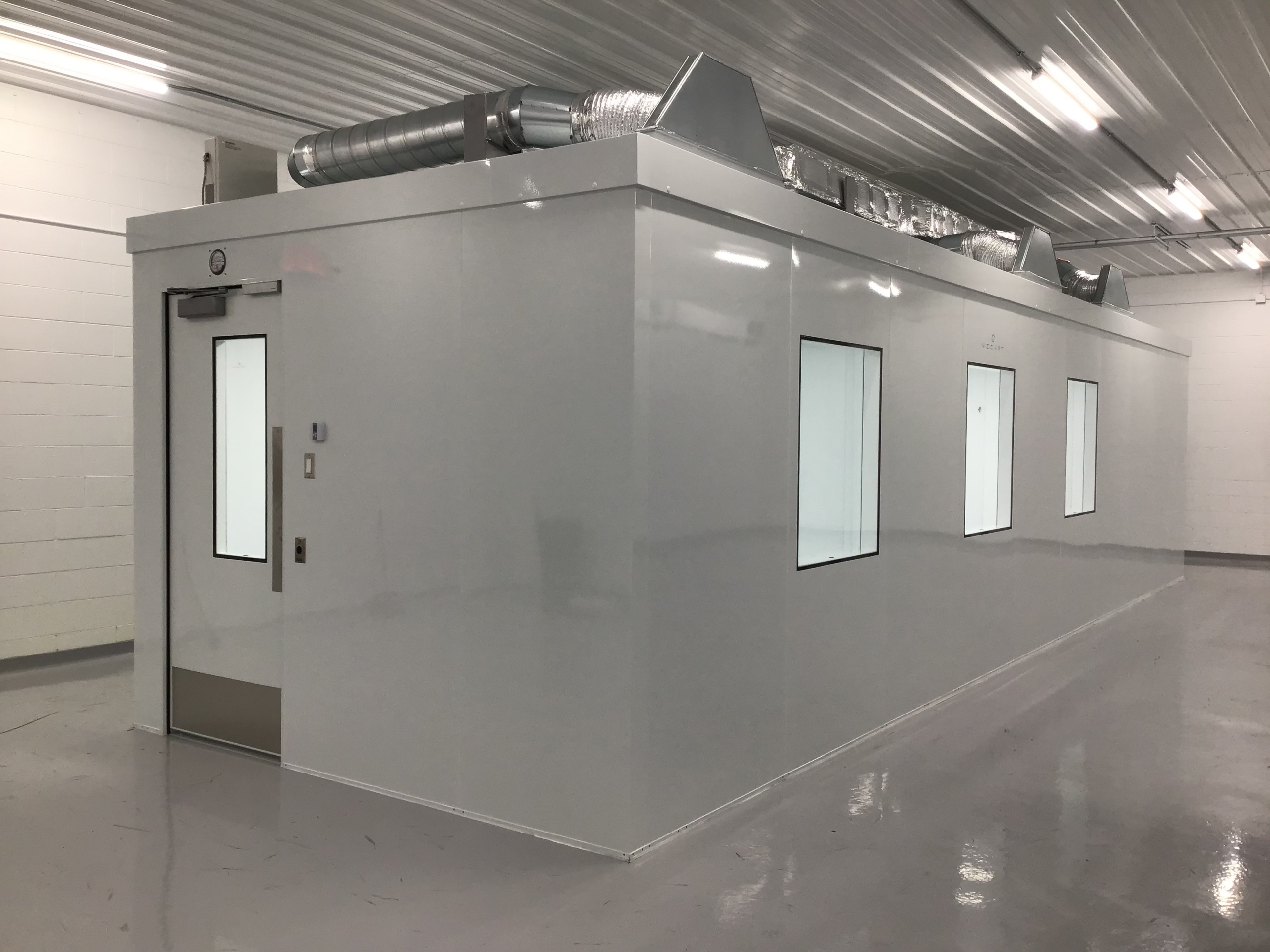 Curing Cancer with Patient-Specific Theranostic and Cell Therapy  Treatment
Theranostics is not as well-known as other fields of modern medicine. It's the combination of the word ''therapies'' and ''diagnostics''. It is used in nuclear medicine and for cancer cell therapies.
Focusing on the pairing of diagnostic and therapeutic agents can help predict the personalized medicine to use, the treatment response, and its toxicity.  In this case, theranostic oncology is delivered via cell therapy, which will focus on cancer cells and tumors.
Manufacturing stem cells needs to occur in a clean room under the GMP guidelines for biologics & sterile drugs.
LET US ADVISE YOU FOR YOUR CLEANROOM NEEDS
We'll present a solution matching your needs and budget!
Contact us