Cleanroom for High-Accuracy Sensor Manufacturing
This 1700 square foot ISO 6 cleanroom was designed and built for a high-accuracy sensor manufacturer in British Columbia. It was a fast track project completed in less than 4 months, from design to commissioning. This turnkey project included the supply of a custom built HVAC system.
Notice the large 20' bay window that offers an impressive view of the operations inside the cleanroom. This customer requested a ''showroom'' type cleanroom as well as a high-performance ISO 6 cleanliness level.
Download our Cleanroom Brochure
Custom-Made Cleanroom Air Handling Unit
This walk-in unit delivers 24 000 CFM of conditioned air to the 1,700 square foot cleanroom.
The air is delivered using 6 plenum fans powered with variable frequency drives.
Notice the access doors to each of the sections ensuring easy maintenance.
The interior is made with the same finish as the cleanroom which makes it very easy to keep clean. No dust accumulation is possible inside.
Additionally, Mecart's acoustical expertise ensures a quiet operation.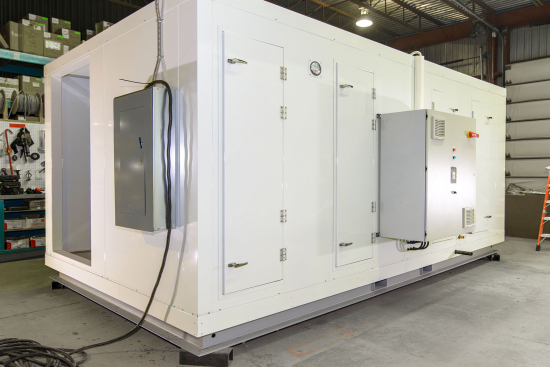 Do you have a semiconductor cleanroom project?
Download our cleanroom checklist as a starting point
Download the checklist