Knowles selects Mecart for its State-of-the-Art Cleanroom
for the production of its 5G wireless technology
Knowles Precision Devices (KPD), a division of Knowles Corporation, makes Multilayer, Single Layer, High Reliability and Precision Variable Capacitors, EMI Filters and Microwave Devices including RF Filters, Splitters and Couplers.  Knowles is currently working on early production of its mmWave Filters to support first-generation 5G wireless communication needs.
Phase 1 of this project is a new cleanroom of approximately 7,000 square feet of ISO 7 space. The entire project, located in Cazenovia, NY, will be in excess of 12,000 square feet when complete.
Mecart is a Canadian manufacturer of turnkey modular cleanroom with 45 years of experience in air handling technology.  The fully custom, 4" structural steel panels are designed, engineered, and manufactured at their Canadian plant in Quebec City. Their smooth finish and strength makes them perfect for any cleanroom projects, from the most stringent ISO 5 facilities to ISO 8.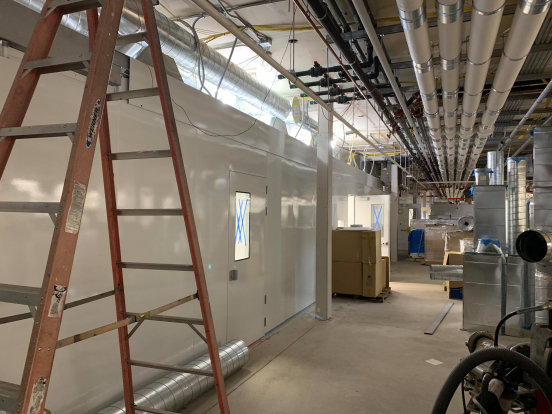 Mecart builds cleanrooms for the semiconductor industry but also focuses on higher specification drug compounding facilities, pharmaceutical and biopharmaceutical customers, as well as medical devices projects.
"It's an honor to work with such a great company", said Patrice Genois, GM of Mecart and VP of PolR.
"When Knowles approached us, they were clear that lead time was crucial as was a tight specification, showroom-type cleanroom. These goals are, of course, very challenging to reach simultaneously but Mecart is fully qualified for the job. We are excited to work with the Knowles team and help them exceed their goals" said Charles Lipeles, VP of US Operations.
Gilberto Valenzuela, Director of Project Management from Knowles said "We were excited to meet with the Mecart team, review the project, and very quickly get a detailed, guaranteed quote.  It has been a great experience thus far and we know that we picked the best partner for this critical capital project."
Construction is underway and planned to be completed in early 2020. The facility is located in Cazenovia, New York.
About Knowles Corporation
Knowles Corporation specializes in acoustics, software, and signal processing, to solve customers' critical audio challenges for the Mobile, Ear and IoT markets. As the industry's leading provider of high-performance audio solutions, Knowles delivers improved audio quality, and enables consumers to better control technology with voice.