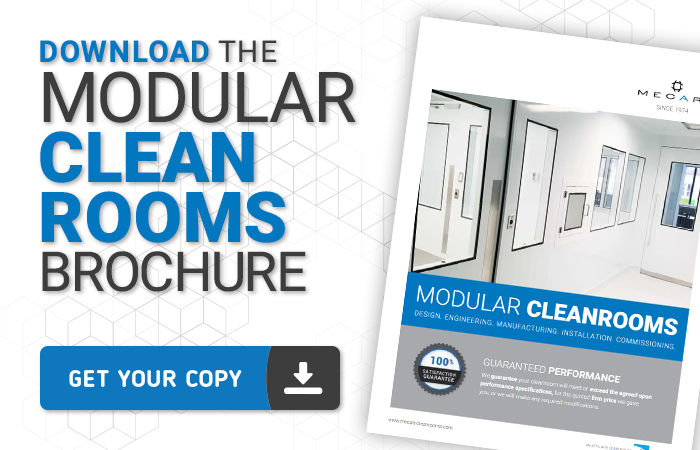 503B Compounding Pharmacy 
As a registered 503B Outsourcing Facility with the Food and Drug Administration (FDA), this company specializes in drug compounding for ophthalmic and inhalation products. Mecart was selected by this southeastern contract development manufacturer (CMO) for their cleanroom project.
Spanning nearly 3,000 square feet, the GMP-compliant cleanroom includes several fill suites, Personnel Airlocks (PAL), Material Airlocks (MAL), pass throughs, eyewash stations, and dedicated areas for visual inspection, labeling, packaging, staging and cartoning.
The 503B compounding pharmacy operates under an ISO 7 cleanliness level with an ISO 8 background zone. Flush-mounted windows and automatic opening doors complete the state-of-the-art installation. A custom HVAC system was pre-assembled in our plant to provide quicker delivery and installation for the client.
Following the production and installation of cleanrooms in their pharmaceutical compounding facility, the customer had nothing but good things to say about their overall experience and satisfaction with MECART cleanrooms.
We recently engaged MECART for a large clean room design and installation project and the entire process was essentially flawless from start to finish. The end result was a fantastic clean room which not only looks better than most, but also functions without any issues.
The end result was a fantastic clean room which not only looks better than most, but also functions without any issues.
What is a 503B Outsourcing Facility?
FDA registered 503B Outsourcing Facilities can provide customized pharmaceuticals to surgery centers, hospitals and medical facilities. Patients being served by 503B facilities are assured that every batch of medication has been tested for endotoxins, sterility, and potency. Additionally, thanks to testing guidelines under cGMP compliance, 503Bs can offer longer beyond-use dating.
Complete 503B Pharmacy Cleanroom Installation in under 60 seconds!
Our timelapse video shows why clients keep choosing Mecart for their modular cleanroom. Built with heavy-duty panels, the cleanroom is structurally sound with a fully walkable ceiling. Cleanroom ceilings do much more than just enclose the clean room.
Many of the fixtures and equipment necessary to keep the cleanroom functioning are housed or accessed via the cleanroom ceiling, such as this client's interior lights, which are changeable from the exterior of the cleanroom – on the roof of the clean room.