Biotechnology Cleanroom for Regenerative Medicine
Mecart has partnered with NJIT to engineer and install high-quality GMP Grade B and C clean rooms where scientists, engineers and researchers will forge ahead in medicine's new frontier.
The GMP-compliant facility space features personnel airlocks, material airlocks, custom pass-throughs, and two segregated air handling units (AHU) to prevent cross-contamination between the cGMP suites, which span nearly 2,000 square feet.
The project's tight timeline was a challenge, but the final product is fully installed and now hosting a variety of novel approaches to regenerative medicine.
This Cell and Gene Therapy Development Center provides:
A fully equipped BSL 2 facility
2 cGmp suites for cell and gene therapy clinical production (ISO7)
Viral vector manufacturing capabilities (gene therapy)
Cell therapy manufacturing for CAR-T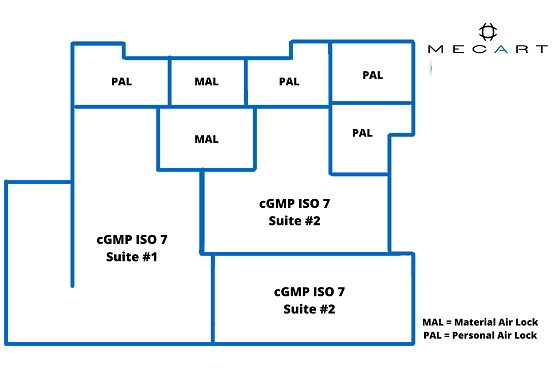 A cGMP Lab for Research, Training and Manufacturing
Based on expected explosive growth in the novel treatment of disease, the New Jersey Institute of Technology / BioCentriq has launched both a master's program and a graduate certificate in cell and gene therapy.
"There is a huge demand for a trained workforce in the cell- and gene-therapy industry, specifically in New Jersey, which is becoming a hub in this field," said Haro Hartounian, Senior Executive Director for Biotechnology and Pharmaceutical Innovation at the New Jersey Innovation Institute.
Students and graduates are also supported through incubator programs where entrepreneurs in the life sciences can work on the clinical cGMP development of novel therapies to build their businesses whether it's for pre-clinical or clinical stages.
Additionally, the increased demand for Contract Development and Manufacturing Organizations (CDMOs) will allow this clean room facility to create a revenue stream.
About Cell and Gene Therapy
The FDA greenlit the first gene therapy treatment in 2017, creating a fast-growing sector of innovative medicine that is expected to transform medicine with treatment for a multitude of illnesses.
Cell and gene therapies had been decades in the making and are now expected to take on many of the world's wide range of chronic and rare diseases. The U.S. Food and Drug Administration anticipates approving as many as 20 gene-therapy products a year by 2025 based on the surge of cell-and-gene-therapy products entering development and clinical trials.
In 2020,  there is more than 360 novel cell and gene therapies that are in early to late stages of clinical development.
Do you have a biotechnology cleanroom project?
Download our cleanroom checklist as a starting point
Download Checklist