Designing a cGMP Cleanroom for Cell and Gene Therapy (CGT)
If your company or start-up is working in gene therapy, cell therapy, clinical trials, viral vector manufacturing, CAR-T cell immunotherapy, or other applications, you're probably already aware that designing a cleanroom for biotherapies can be a complex process. Here is what you need to know for your biotech GMP clean room design.
Regenerative medicine and advanced therapy medicinal products (ATMP) are fast-growing markets! The Food and Drug Administration (FDA) is expecting 200 applications a year requesting permission to begin cell and gene therapy trials. Four therapeutic treatments have already been approved for patients by the FDA. There are 4 main types of therapy: cell therapy, gene modified cell therapy, gene therapy and tissue engineered products.
Gene modified cell therapy: Cells from the patient (Autologous) or from another source (Allogeneic) are modified in the laboratory to produce a therapeutic effect when reintroduced to the patient.
Gene Therapy: Genetic materials are inserted by means of a viral vector or another method, resulting in a therapeutic effect. This restores the damaged or malfunctioning body cells to treat the patient.
Tissue engineered products: Cells or biologically active molecules are engineered to restore, maintain, improve, or replace damaged tissues or organs.
In all of these types of therapies, there are many differences in the production process, making it hard for biotherapeutic manufacturers to design their cGMP cleanrooms.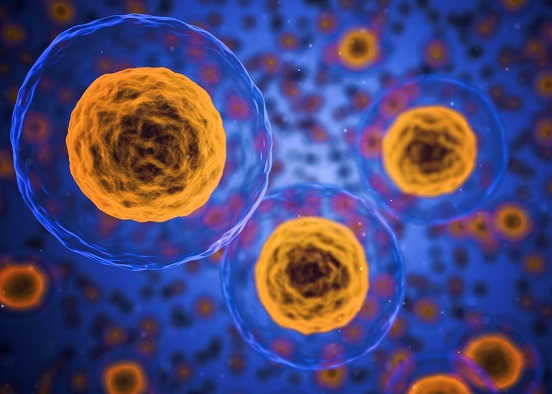 6 things you should consider when designing your clean room environment
R&D Lab or Large-Scale Manufacturing?
Are you building a small research and development lab or a large-scale manufacturing facility? Size is directly related to cost. The layout, the dimensions, the HVAC system, and the equipment in your clean areas will vary depending on if your goal is research and development, preclinical trials, clinical trials, or large-scale manufacturing.
Know your Production Process
There is no "one size fits all". There is a large variety of equipment involved in a cell and gene lab facility. Each step of the manufacturing process may differ in their requirements regarding humidity, temperature, and particles. When designing the GMP cleanroom, you must think about connecting, in a logical order, the sequence of the operations and its required level of cleanliness. For example, if you have 2 steps of the process that require an ISO 5 environment, you should consider putting them in the same clean room area (if possible). You need to really understand the phases of production, for your upstream and downstream processes.
Equipment Produce Heat and Particles
There is a lot of different equipment needed in your lab or clean room for the manufacturing of cell and gene biotherapeutics. In the gene modified cell therapy field, there are at least 9 actions required from different devices to produce the treatment. From  cell isolation to gene transfer, to the formulation and cryopreservation, you will need to know which equipment you need as it will affect the size of the clean room area.  Also, you must consider that all regenerative medicine production equipment will affect the temperature and number of airborne particles (contaminants) in the cleanroom. The heat gain must be determined to provide the cooling required inside the clean room areas, which will also affect the design.
Another important thing to know about the equipment is the lead time. Some of the equipment can take up to 24 months before delivery which might be longer than the lead time of the cleanroom itself. When designing a cGMP regenerative medicine facility, it is possible to engineer the cleanroom with large removable panels, making it feasible to install the missing machines upon their arrival, after cleanroom construction is complete, without delaying the construction.
Future Growth Plans
When designing a cGMP clean room, whether it's for autologous or allogeneic personalized medicine, you must be prepared for the future. Regenerative medicine is a blossoming field so it's wise to incorporate flexibility for an evolving production process and equipment changes or enhancements. Transforming your clean room facility from a clinical trial environment to commercial manufacturing is already a hard task, which becomes more challenging if you're not prepared. To be competitive, you must adapt quickly. If you want to be a gene or cell product manufacturer, you might have to expand to meet future demands, so it is recommended to think about this future growth when designing. Modular construction makes it possible and easy to expand, move or modify the room, making it a real asset.
Environmental Monitoring in cGMP facilities
Environmental monitoring plays a crucial role in maintaining the requirements and regulations to produce biological medicinal products. Environmental Monitoring Programs (EMP) are used to test 3 parameters to comply to the ISO 14644-1 cleanroom standards and the PIC/s manufacturing area classification. The 3 parameters tested determine the number of contaminants that are found in the air, on critical surfaces, and on personnel. GMP clean rooms for cell and gene therapy are designed to ensure the quality, safety, and efficacy of those biological therapeutic treatments, which makes it extremely important to have a good monitoring system. Also, Advanced Therapies Medicinal Products (ATMP) need to be monitored carefully to recreate the delicate environment in which the cells live. As mentioned, Cell and Gene Therapy (CGT) is a fast-changing industry. It's important to understand that the monitoring devices will play a key part in your future needs and must be integrated into the design to help with the configurability and automation of your production process.
Lack of regulations and speed of changes (including future changes)
GMP requirements have been written in most cases without advanced therapies in mind. Therefore, the regulations can be a little ambiguous. As there is no "official" regulation for CGT, it falls under the regulations of Good Manufacturing Practices (GMP) and ISO 14644-1. Regulations could change quickly and alter the way you will operate your cell and gene therapy facility in the future. Flexibility and adaptability of the facility is something you need to consider during the design phase.
Ready to discuss your GMP-compliant cleanroom Laboratory for biotechnologies and regenerative medicine?
Contact Us!