This pharmaceutical manufacturing company contacted MECART to provide more than 4,500 square feet of cleanroom spaces divided into three distinctive areas for the company's compounding facility:
Non-hazardous sterile compounding cleanrooms
Hazardous sterile compounding cleanrooms
Powder containment cleanrooms
The compounding cleanrooms and the powder containment cleanrooms are all in operation under ISO 6, ISO 7, and ISO 8 classifications, but most cleanroom spaces are within the ISO 7 cleanliness level.
All the cleanrooms that MECART has manufactured have been built to respond to the current good manufacturing practices (cGMP) strict guidelines and USP 797 and USP 800 chapters under the United States Pharmacopeia Regulations.
The HVAC designed by MECART provides clean air for use in MECART cleanrooms and in cleanrooms already installed on-site by competitors.
The HVAC can offer two types of air pressure at the same time. Powder and hazardous sterile compounding cleanrooms require negative air pressure, while non-hazardous sterile compounding cleanrooms require positive air pressure.
Pharmacy Compounding of Non-Hazardous Sterile Preparations
Most of the cleanrooms, divided into 17 small rooms, provided by MECART are dedicated to the pharmacy compounding of non-hazardous sterile preparations.
The non-hazardous cleanroom zones are divided into three cleanliness levels: ISO 6, ISO 7, and ISO 8. The non-hazardous sterile compounding cleanrooms have positive pressure, meaning that the HVAC system pumps clean, filtered air into the structure to provide an air-pressure level greater than that of the surrounding environment.
For this cleanroom section, there are only two rooms that are dedicated to ISO 6 activities: the sealing-and-filling room and the GMP fill finish room.
Isolation Cleanrooms for Non-Hazardous Sterile Compounding
There are two types of compounding cleanrooms: isolation cleanrooms  and containment cleanrooms.
The fundamental difference between an isolation cleanroom and a containment cleanroom is the ventilation system and its airflow.
For pharmaceutical manufacturing, isolation cleanrooms refer to a positive-pressure environment suitable for ultra-clean procedures, aseptic workflows, pharmaceutical preparations, and other bio-sensitive applications.
Compounding pharmacists use isolation cleanrooms for non-hazardous sterile preparations, anterooms, and corridors.
cGMP Pharmaceutical Manufacturing of Hazardous Sterile Preparations
To increase its production and thus ensure growth, the pharmaceutical company has also increased its number of cGMP pharmaceutical manufacturing cleanrooms for hazardous sterile preparations.
Their hazardous drug section — with 6 rooms, including 2 gowning rooms and 1 ante room — is the smallest part of this compounding cleanroom project.
The cleanroom area also includes two cleanrooms for the preparation of cytotoxic drugs, during which non-antineoplastic and antineoplastic drugs are manufactured, and one room for the preparation of veterinary medicines.
This sterile preparation suite for hazardous preparations operates with an ISO 7 cleanliness level and an ISO 8 background area.
All sterile compounding operations inside the cleanroom are performed amid negative pressure and include biosafety cabinets (BSC) for environmental and worker safety.
Containment Cleanrooms for Hazardous Sterile Compounding 
In contrast to an isolation cleanroom, a containment cleanroom serves to prevent contaminated air from leaving the hazardous sterile preparation room or the powder room into clean areas.
In a negative pressure cleanroom, the HVAC system pumps all contaminated air out of the building. Thanks to the negative pressure, containment cleanrooms for hazardous sterile compounding prevent dangerous gases and toxic compounds from spreading to adjacent locations.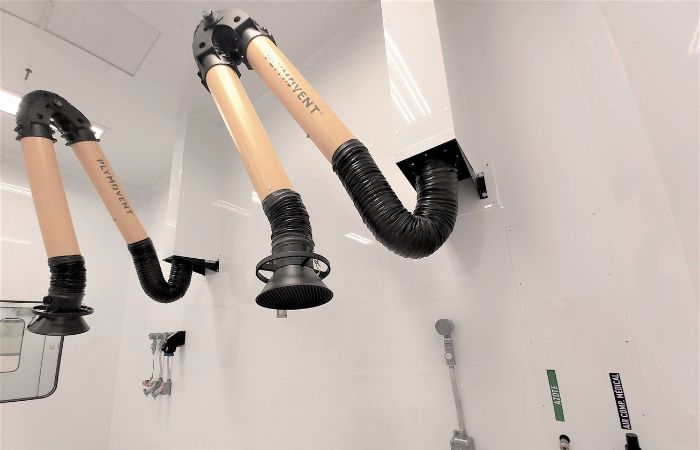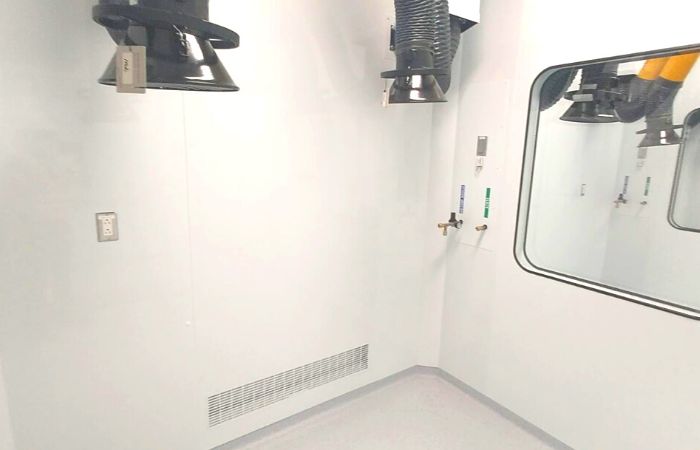 Powder Containment Cleanroom for Sterile Compounding
The powders used for manufacturing drugs and medicines are stored in the powder containment cleanrooms or active pharmaceutical ingredients (API) cleanrooms.
In simple terms, there are two main reasons why the cleanroom is essential for API and powder storage.
First, active pharmaceutical ingredients (APIs) and products must be stored under the right conditions to avoid contamination and cross-contamination.
Secondly, must be stored so that the quality of the APIs and powders is maintained and, therefore, suitable for the product's end user.
The powders and APIs cleanrooms are designed to ensure excellent storage conditions as they must be kept in a dry, clean place and maintained within acceptable temperature limits.
Powder containment cleanrooms also must be in compliance with specific cleanliness levels. In this case, the powder containment cleanrooms provide an ISO 8 level of cleanliness with Clean Non-Classified (CNC) for the background zones, such as the corridor.
Pharmaceutical organizations and pharmacies must maintain the proper containment of their API powder substances since the substances can be hazardous if swallowed in large quantities or explosive if allowed to go airborne.
Since powders can be explosive, proper preparation and safeguards are imperative. To avoid any chance of sparks or flames, special non-sparking switches (dry contacts) and anti-static devices have been integrated into the cleanroom.
Because of those hazards, those cleanrooms are maintained with negative air pressure.