Building a GMP Facility: 8 GMP Cleanroom Requirements
GMP facilities and GMP cleanrooms are mandatory in various sectors of the pharma, biotechnology, and drug manufacturing industries to ensure high product quality. For example, they are commonly used in drug manufacturing, vaccine manufacturing, 503B outsourcing facilities, biologics, and the cell & gene therapy field.
The GMP requirement will impact your cleanroom and facility design. There are multiple ways to build and design a cleanroom facility that will meet GMP requirements for the sterile manufacturing of drugs. Here is a list of considerations you should know before elaborating on your design.
Flush Design and Finish
Routine Environmental Monitoring, Control & Microbiological Monitoring
Airlocks and pass-throughs (PAL/MAL)
Interlocking System
At Rest vs. In Operation
HVAC System
Sinks and Drains
Doors
What are the Good Manufacturing Practices (GMP) Cleanroom Features? 
1. Flush Design and Finish
When designing your GMP facility, prioritize flush design, particularly for windows, walls, ceilings, and doors.
Whether it's a GMP cleanroom facility or not, the purpose of a cleanroom is to provide a clean environment, with as few contaminants as possible inside the room, to manufacture various drug-related products.
Another advantage of the flush-finish option is that the absence of an edge makes it way easier to clean.
Wall and Ceiling Finish
As requested by the GMP requirements, your surfaces need to be smooth and impervious, with unbroken surfaces. That regulation is in place to minimize the shedding or accumulation of particles or micro-organisms.
Windows
Fully flush windows are flat against the modular wall. The absence of edges makes them easy to clean since there are no corners to collect dust particles and micro-organisms.
Ceiling
Mecart's flush ceiling panels are the same that we use for our modular wall panels. They are perfectly sealed, giving a genuinely flush finish with no place for dust, mites, bacteria, and airborne particles to settle. Some cleanroom manufacturers use T-seals ceiling tiles, but these might not receive approval for GMP manufacturing.
Lighting fixtures
The flush lighting option prevents the accumulation of unwanted particles, thanks to a recessed light system. Recessed lights are nested directly inside the ceiling panels with a flush design.
Low air return
Including low-air returns for your GMP facility is also a must to be compliant.
Sprinklers
Flush finish sprinklers are recessed into the ceiling panels and only come out in the event of a fire. This prohibits them from collecting airborne particles.
Coving
Cleanroom Coving is another feature that must be included in your GMP facility design.

Coving covers the seam between two surfaces, such as the intersection of two walls or the connection between a wall and the ceiling or floor. In other words, cleanroom coving eliminates corners. You can have wall-to-wall, floor-to-wall (included in the floor) , and wall-to-ceiling coving.

Wall-to-wall coving and ceiling-to-wall coving are needed in GMP facilities and cleanrooms, as it makes it easier to clean and significantly reduces the risk of contaminant accumulation.

The corners of walls, floors, and ceilings are difficult places to clean, which increases the risk of contamination and not meeting GMP standards for sterile manufacturing of drugs.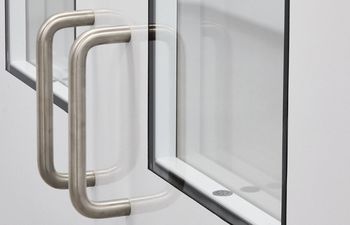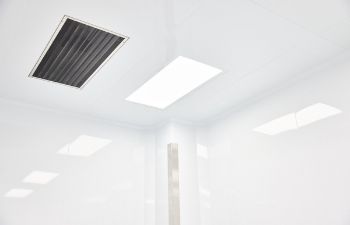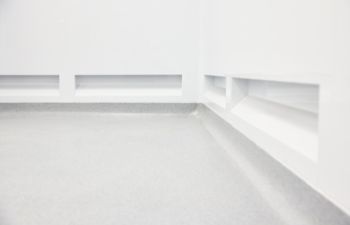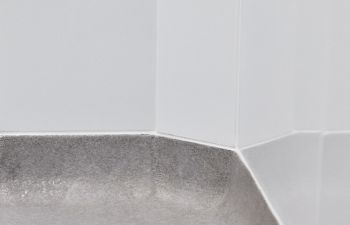 2. Routine Environmental Monitoring, Control & Microbiological Monitoring 
GMP guidelines are stricter than ISO 14644 for particle monitoring and sampling. That's why a monitoring system is mandatory for sterile drug manufacturing under GMP guidelines with different sampling frequencies for each grade.
The approximate cost for a 21CFR monitoring system (including pressure/temperature/humidity) can range from $50,000 to $1 million for a GMP facility depending on the number of rooms, your specific requirements, and the number of probes you want/need. You will need to take account of this system in your GMP facility's budget.
In a GMP cleanroom facility, many things need to be monitored. First, there is environmental monitoring, but there is microbiological monitoring as well. Environmental monitoring examines air pressure, humidity, airborne particles, etc.
The GMP facility will need a control and particle monitoring system with an alarm for grades A and B if limits are exceeded. Unlike other cleanroom applications, you cannot sample manually inside a cGMP facility. Monitoring and control will also be necessary for temperature, humidity, and pressure differential.
ISO cleanroom classifications have well-defined numbers and locations for air particle sampling in the cleanroom. For example, if we take an ISO 5 cleanroom, the monitoring for ISO classification sampling is to ensure that the whole cleanroom remains at the ISO 5 level (see figure 1).
Under GMP monitoring guidelines, this can be more complicated due to the uniqueness of each manufacturing process (see figure 2). Routine environmental monitoring and sampling inside the GMP facility should be performed in areas with a higher risk of exposing the product to contamination. In other words, you will have to use the risk assessments of your activities to understand where monitoring and sampling will be necessary.
On the other side, microbiological monitoring includes the microbial assessment of the air quality of laboratory operators, interiors, and surfaces inside the cleanroom. This aims to analyze and control the viable microbial load, also known as bioburden.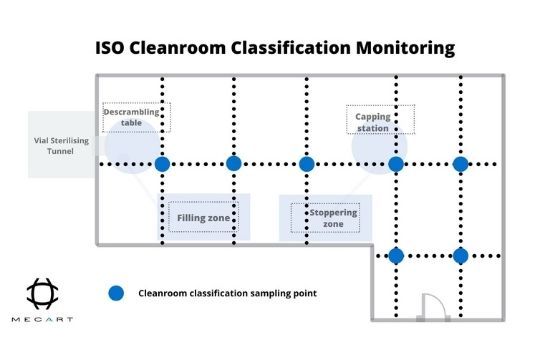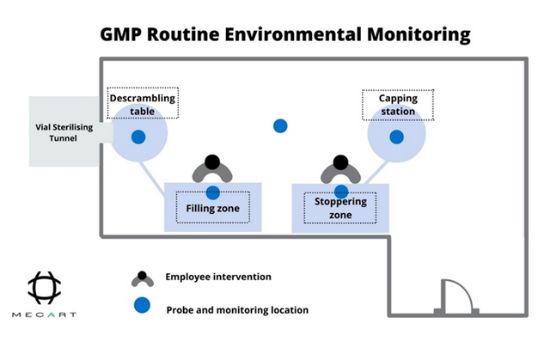 On the other side, microbiological monitoring includes the microbial assessment of the air quality of laboratory operators, interiors, and surfaces inside the cleanroom. This aims to analyze and control the viable microbial load, also known as bioburden.
cGMP regulations have established recommended limits for microbial contamination for each grade. The Colony Forming Unit (CFU) is the measurement unit for the concentration of microorganisms, bacterial and fungal colonies, inside various test samples.
Here is the GMP chart showing the maximum amount of CFUs that can be found inside the cleanroom area:
Recommended limits for microbial contamination (a)
Recommended limits for microbial contamination (a)
Grade
air sample cfu/m
settle plates (90 mm) cfu/4 hours (b)
contact plates (55 mm) cfu/plate
glove print 5 fingers cfu/glove
A
< 1
< 1
< 1
< 1
B
10
5
5
5
C
100
50
25
–
D
200
100
50
–
(a) These are average values.
(b) Individual settle plates may be exposed for less than 4 hours.
For the results of particle and microbiological monitoring, appropriate warning and action thresholds should be defined. If these limitations are exceeded, operating procedures should prescribe corrective action. You will have to think about including alarms and microbiological monitoring devices in your GMP facility & cleanroom design.
3. Airlocks, PAL/MAL, and pass-throughs
In pharmaceutical GMP cleanrooms, specific attention must be put to Personnel Air Locks (PAL) and Material Air Locks (MAL) entry and exit. Contamination can come from cleanroom entries.
Airlocks are closed rooms with two or more doors that connect two distinct regulated areas with varying cleanliness standards such as Class B and Class C; Class C and Class D. These airlocks restrict direct airflow between these compartments during material (MAL) or people (PAL) ingress.
Changing rooms should also be built as airlocks to offer physical isolation from the cleanroom environment and to reduce the possibility of microbiological and particle contamination from protective gear. If contamination risks remain high, installing an air shower inside the airlocks is possible.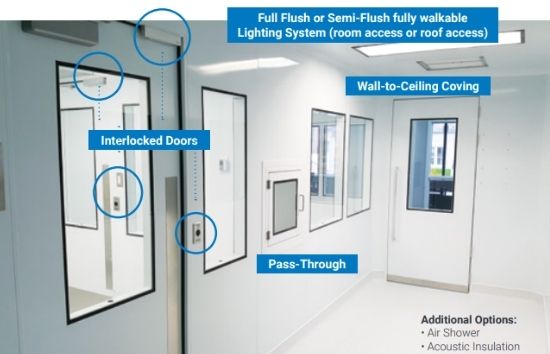 A pass-through cabinet is an enclosure installed in a wall between two or more adjacent spaces to facilitate the transfer of materials from one side of the cleanroom to the other. In other words, it's a smaller airlock inside the wall to transfer material only. The same requirements for MALs, PALs, and doors are necessary for the pass-through to be GMP compliant.
4. Interlocking System
The entries, personnel airlocks, material airlocks, and pass-throughs need to have an interlocking system to be GMP compliant.
The interlocking system is to render the opening of more than one door at a time impossible. In a regulated environment, such as a cleanroom, interlocking systems are designed to provide a safe, efficient, and easy way of opening and closing doors.
Without this system, when both doors are open, it creates a wind corridor, pushing the microorganisms and airborne particles to the cleaner side of the cleanroom. This could be the difference between remaining GMP compliant or not.
An interlock door system will minimize the loss of pressure that happens when two doors are opened simultaneously and allow the HVAC to work in optimal conditions for maintaining the required cleanliness level. This feature will preserve air quality and prevent outside airborne contaminants from entering the manufacturing cleanroom area.
The interlocking door system is not an obligation under the GMP guidelines for sterile drug products, but it is mandatory that two doors cannot be opened simultaneously. A visual and/or audible alarm or signal could be another option to replace the interlocking system.
5. At Rest vs. In Operation
The GMP guidelines mention that there are 2 different cleanliness levels inside the same room that need to be met. There is the ''at rest'' and ''in operation'' status.At rest, the cleanroom space is unoccupied (except for the equipment), because no one is working inside.
In operation, the workers are inside, and processes are underway in the cleanroom. For example, if you run a Grade B cleanroom, the ISO 14644-1 cleanliness level equivalent at rest is ISO 5, but it must be equivalent to an ISO 7 area in operation.
Grade
Maximum permitted number of particles ≥ 0.5 μm/m3

At rest

Maximum permitted number of particles ≥ 0.5 μm/m3

In operation

ISO Class
At Rest/In Operation
Grade A
3 520
3 520
ISO 5/ ISO 5
Grade B
3 520
352 000
ISO 5/ ISO 7
Grade C
352 000
3 520 000
ISO 7/ ISO 8
Grade D
3 520 000
Not defined (CNC)
ISO 8/ – not defined
6. HVAC System
The EU GMP guidelines don't include the number of air changes per hour. On the other hand, FDA GMP guidelines for sterile drug products mention that a minimum of 20 ACH is acceptable for an ISO 8 (Grade C in operation and Grade D at rest). The reality is that to evaluate the correct number of ACH for your GMP facility; you will have to use a risk assessment approach and understand your manufacturing process.
To help you understand how many air changes per hour you will need for your HVAC system, you can use our cleanroom design calculator tool*.
*Disclaimer: This is a rule of thumb only. A lot of aspects are not considered for the calculation, including but not limited to heat gain, number of people, the use of a fume hood, etc.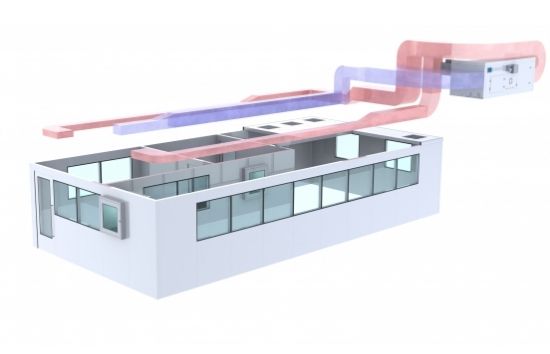 7. Sinks and Drains
Sinks and drains are never allowed in the clean room zone, but they are allowed in the gowning area or anteroom. As mentioned inside our Understanding Grade A, Grade B, Grade C & D article, sinks and drains are prohibited under GMP guidelines for Grade A and Grade B zones. This constraint is applicable only for aseptic processing areas, where they put the sterile aseptic product inside their sterile container.
Air brakes or mechanical devices should be installed between the machine or sink and the drains in areas dedicated to other processes. Backflow should be prevented by using traps or water seals in lower-grade (ex: Grade D) clean rooms.
8. GMP Cleanroom Doors
GMP compliant doors need to be seamless to prevent the accumulation of bacteria and contaminants. Entries must also be easily cleanable and resistant to cleaning agents.
Though it's not an obligation, the door design must avoid gaps and recesses that cannot be cleaned; for this reason, sliding doors are not recommended.
An interlocking system for doors and airlocks is mandatory in designing a cGMP clean room to prevent contamination.
The sealing performances of the doors are also essential to consider when picking a type of door. Well-sealed doors will help maintain the cleanliness levels of your cleanroom environment inside your GMP facility.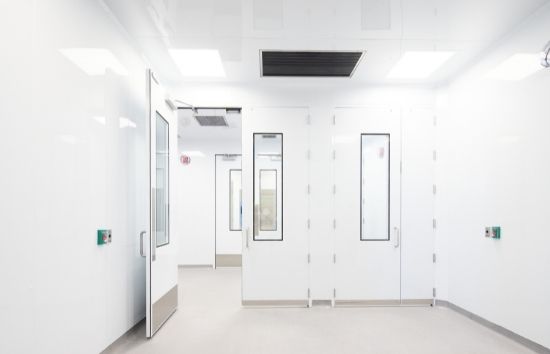 In Conclusion, Here is What You Need to Remember about GMP Facility Design
Obtaining and maintaining GMP compliance with authorities such as the Food and Drug Administration (FDA) is a difficult task. Every part of your cleanroom design should be thoughtfully planned. If you want to build a GMP facility, working with experts and an experienced cleanroom manufacturer will save you time, stress, and money.
Ready to discuss your GMP facility project with us?
Contact us and request a free quote!
Request a Free Quote
Disclaimer: The information given in this article is for general guidance on matters of interest only. Even if the Company takes every precaution to ensure that the content of the Service is both current and accurate, errors can occur. Plus, given the changing nature of laws, rules, and regulations, there may be delays, omissions, or inaccuracies in the information contained in this article.
MECART is not responsible for any errors or omissions or the results obtained from the use of this information.