mRNA & Plasmid DNA Manufacturing Cleanroom for a Biotech CDMO
Overcoming Cleanroom Challenges with AGILE Project Management
Cleanrooms are rigorous environments where some standards and requirements need to be met without any compromise. Multiple things may go wrong if not planned accordingly. MECART is resourceful in finding solutions and alternatives for each challenge.
MECART had to work with:
a tight schedule
problems related to the supply chain beyond our control due to the pandemic
Rapid Delivery of Biotechnology Cleanroom for Rapid Market Launch 
Our client had a quick time-to-market approach for their nucleic acid products. They wanted to hit the market with their mRNA cap analogs and plasmid-DNA as fast as possible.
MECART's customized, fast and high-quality approach to cleanroom manufacturing is perfect for cases like this. This isn't the first time we've worked with a tight, aggressive schedule and come out on top! Our client's words sum it up best.
"The process was seamless. A site visit was quickly organized, and this allowed me to have personal rapport with the project managers. I feel a great sense of ownership from the project managers, so much that sometimes they feel like part of our team…it's clear that they want us to succeed, and that means a lot to me," said the VP of this biotechnology company.
Here are a few other cleanroom projects we delivered with a tight schedule: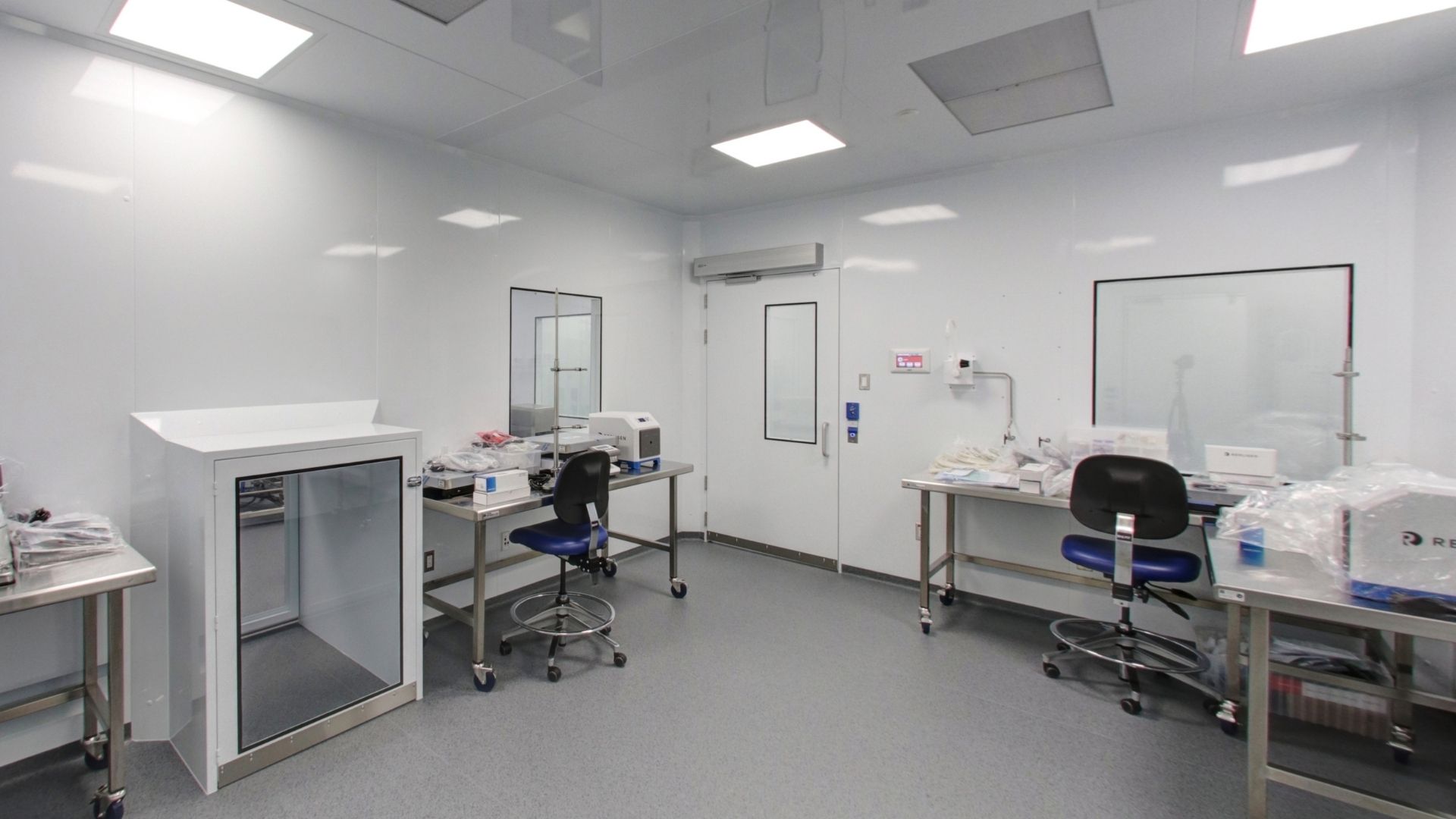 Overcoming Supply Chain Problems Thanks to In-House Experts 
The global supply chain is still being impacted by issues related to the COVID-19 pandemic, such as delays and interruptions. Almost every sector has been affected directly or indirectly by chain supply issues.
In this situation, the HVAC required some items that were out of stock or had significant delays in delivery that jeopardized the final cleanroom project. Instead of accepting the harsh reality of broken supply chains, our in-house HVAC expert found a workaround to solve the problem.
MECART has 20 engineers and multiple experts in various domains to solve problems like this, to meet your need for quick lead time!
In the end, MECART met the requested delivery time, allowing the biotech CDMO to begin their mRNA and plasmid-DNA manufacturing in their brand new cleanroom facility.
Mecart overcame all the challenges along the way. This allowed us to meet the requested lead time and meant our client could begin the mRNA and plasmid-DNA manufacturing in their pristine cleanroom facility. Above, there is a timelapse of the assembly of the modular cleanroom at the customer's site.
Take a look at some of the biotechnology cleanroom projects designed and built by MECART:

About Northern RNA
Northern RNA is a Canadian contract development and manufacturing organization (CDMO) specializing in the production of nucleic acid products that support life-enabling work. They support their customers by providing scalable manufacturing capacity and helping them accelerate innovation.
Northern RNA aims to be a world-leading, customer-focused, end-to-end supplier of nucleic acid products such as mRNA Cap Analogs and Plasmid DNA.
Northern RNA also provides services for Cell Banking (Bioprocessing), Synthetic Chemistry, Biologics, and Chemical Storage and Stability Testing.                                                                                      
Contact: 
Phone Number: 866 678 4762
Email: [email protected]
Address: 335 – 25 Street S.E.  / Calgary, Alberta / T2A 7H8